This is an archive of the epic.SIX tournament site. For latest tournament information, please visit tournaments.epiclan.co.uk.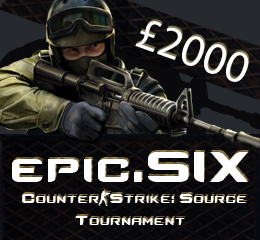 We are down to the last two matches here at epic.SIX first up at 10:30 we have Link Gaming vs Twistedplay.OVH fighting to see who will be joining Rasta.Xd in the final at 12

Both of these matches will be streamed live via source tv and here are the ips

Server1.epiclan.co.uk:27115
Server1.epiclan.co.uk:27116
Server1.epiclan.co.uk:27117
Server1.epiclan.co.uk:27118
Server2.epiclan.co.uk:27115
Server2.epiclan.co.uk:27116
Server2.epiclan.co.uk:27117
Server2.epiclan.co.uk:27118

And for you at the event
games3:27115

W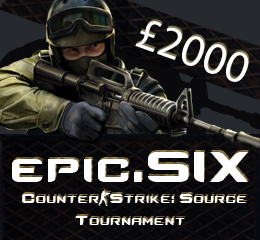 ith the first two rounds of the group stage completed we have the sourcetv demos up for you get
If you are at epic.SIX get them from
ftp://ftp/public/Tournament/Demos/epic.SIX/CSS/
If you're not then here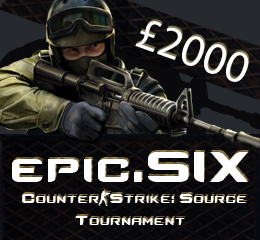 Team signups for the epic.SIX Counter-Strike: Source Tournament are now open.
When you have confirmed your space for epic.SIX, you will be able to join in with the CSS tournament in one of the following ways:
Create a New Team
Join an Existing Team
Sign Up as a Merc
So if you have a pre-arranged team, create the team, hand out the passwords to your team members and get yourselves signed up.
If you don't have an organised team, but you want to take part anyway, then sign up as a merc, put a comment in the box about your skill/preferred class and we'll help you to get involved in an existing team or mix team to be in with a chance of winning the prize.